Porsche's latest and greatest 911 GT3 has finally landed in Malaysia, making her debut at Sepang Circuit, at Porsche Malaysia's Porsche World Road Show 2021 (#MYPWRS2021). We're excited to say that we had a brief drive on track, but before we go there, here's what we know on paper. 
The 992-generation 911 GT3 now gets motivation from a 4.0-litre six-cylinder, naturally aspirated motor that develops 510 PS and 470 Nm of torque. Tipping the scales at 1,435 kg, the all-new 911 GT3 revs to a heady 9,000 rpm, comes in either six-speed manual or seven-speed PDK and, in the latter, completes the century sprint in just 3.4 seconds and 320 km/h vmax. 
If you were wondering: yes, faster than the previous generation 911 GT3 RS. 
The very first GT3 was introduced to the world back in 1999, in its 996-generation form. Back then, the GT3 was meant as the homologation model for FIA GT3 cup. Today, Porsche inputs most of its racing technology into the GT3 model. 
It's flax-six is based off the drivetrain of the 911 GT3 R, tried and tested in endurance racing, and features individual throttle bodies for each of its six cylinders. There's new aero, that unmistakable swan-neck wing, and a rear diffuser taken from the 911 RSR resulting in 50% extra downforce with no impact to drag coefficient.
The 911 GT3's rear wing and front diffuser can be further adjusted and in maximum attack mode, generates up to 150% more downforce. 
But there's more: double-wishbone front-axle and multilink rear-axle, wider body, larger wheels, extensive use of lightweight materials (re: CFRP bonnet and wing, lightweight glass, smaller battery, forged wheels) and a sports exhaust system which howls all the way to the redline.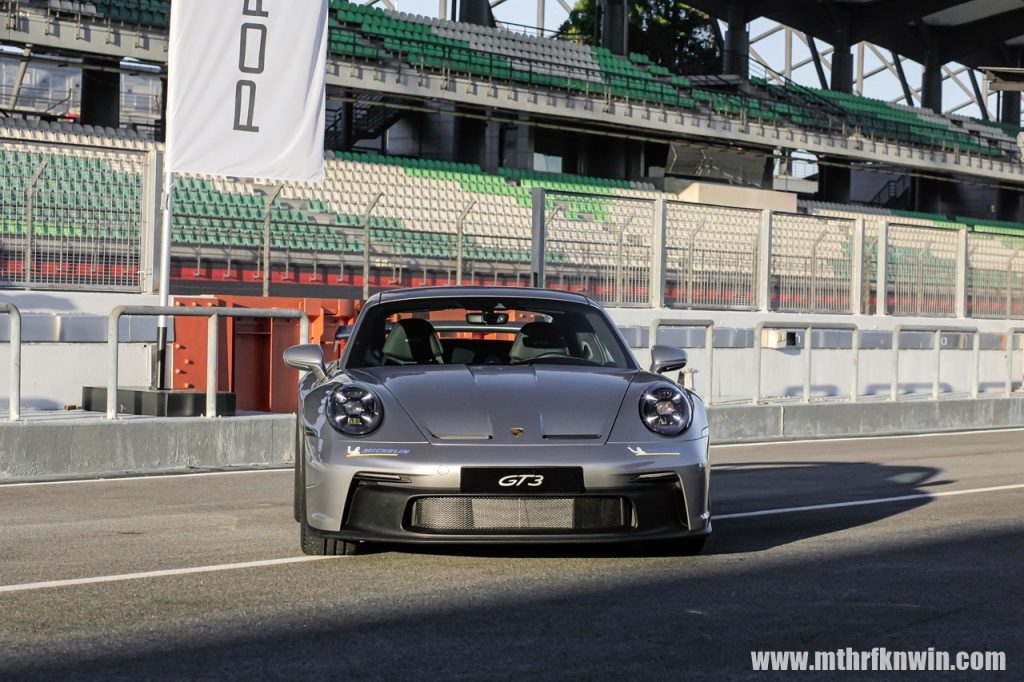 Although these updates seem like small increments on paper, the overall result on track is mind-blowingly mega. For the first time ever, the new 911 GT3 laps the Nürburgring Nordschleife in just under 7 minutes (6:59.927 minutes, but who's keeping count?) or a whopping 17 seconds faster than its predecessor! 
While I've never driven any GT3 RS, I've had the good fortune of having driven around Sepang in the 991-generation GT3 in both Mk1 and Mk2 guises. Honestly, the 992-generation GT3 is full-step ahead of its predecessor. And while there isn't that much more power than before, it is simply the way the new GT3 is able to use all of its horses, enabling you to power into and out of a corner, which makes the biggest difference. 
Our biggest disappointment on the day had nothing to do with the car; just the one lap we were allowed in the 911 GT3. Despite that and, even with an instructor limiting our enthusiasm ahead, it was likely the fastest I'd ever lapped Sepang Circuit. Yet, with much more potential undiscovered (and seconds to shave off) had we had the chance to explore the car further. Both fulfilling and frustrating at the same time. 
Did we mention that it now sits at the top of our list of wants, in our dream garage?
What we won't know, is how the incisive GT3 will manage on bumpy Malaysian roads. However, we're quietly confident the GT3 can behave in public, especially given its new adaptive dampers. Let's not forget that the GT3 isn't meant to be a daily driver. Instead, its the sort of track-focused machine which you can drive to office on a casual Friday, track-day on Saturday, wrapping it all up with a weekly grocery run on Sunday. 
And hey, if anyone with a 992 GT3 insist we find out how she drives on the road, it's unlikely we'll turn down that opportunity. 
Prices for the new 911 GT3 starts from RM1,766,244.00 (duty paid with SST exemption). Porsche's GT3 Touring Package deletes the swan-neck wing (should that be too much of an aesthetic eye-sore for you) and features the six-speed manual. Instead, you get a automatically extending rear spoiler, silver trim strips on the windows, front end painted completely in exterior colour, as well as 'GT3 Touring' logo on the rump.
All this, at no additional costs (although all additional optional equipment can be added on). 
For the discerning few who want to 'individualize' their car further — good news: Porsche's PTS (better known as 'Paint-To-Sample') programme is available, opening up 105 classic shades from Porsche's past catalogue, along with further bespoke possibilities. Expect the cost of this to be immense but ultimately… we think it'd be worth it.