Having owned my Subaru BRZ since December 2015, it did not take me long to start swapping out parts and truly "making her my own". You know, blank canvas and all that. But that journey has been interesting and I thought I'd share that with the readers of #MTHRFKNWIN.
What have I learnt so far? Well, manufacturers spent millions of dollars on research and development, so if you are going to change something, make sure that the company has done as much (if not more) development for the component you are purchasing. For me, STI parts were a good place to start. No point being penny wise but pound foolish, after all.
Road going cars usually have compromises built in, to suit a wider target audience. For niche purposes such as track use, it does make sense to go with aftermarket parts. But remember – this is all about balance; changing one area will usually lead to a knock-on effect in another area. There is always a trade-off when tuning your car to be more focused, which is something I've learnt and am still learning (the hard way).
Have I made my car faster? We shall see…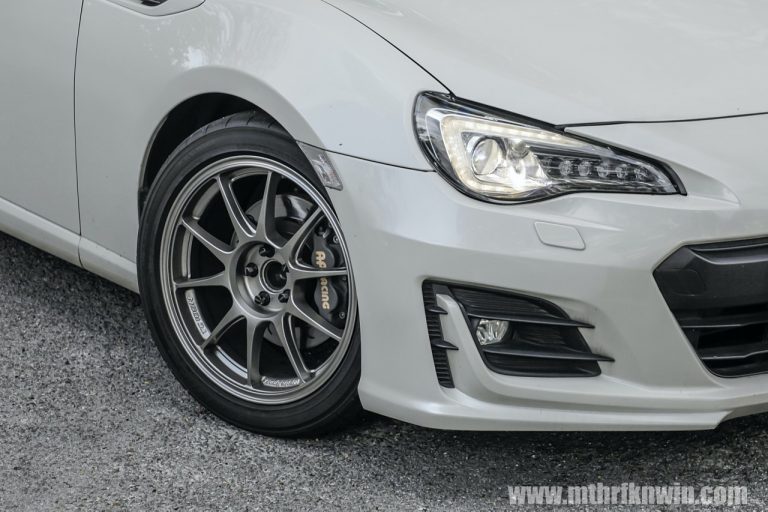 Wheels & Tyres
The car's Prius spec tyres were the first to go; my main priority was to add grip and fit bigger brakes. My benchmark was the GT86 Cup car, so I decided to go with their 17×8" rim size, except I'd be running 225 section AD08R's as opposed to their 235 section slicks.
I must point out here that I completely disagree with comments online that claim the car's character is lost with high grip tyres. Nonsense! For me, the extra grip showcases the amazing chassis that the car sits on. However, the higher grip does highlights weaknesses in the car's stock suspension, with the car doing a sort of Russian-doll type motion into corners; rubbers gripping tarmac hard but body pogo-ing everywhere else.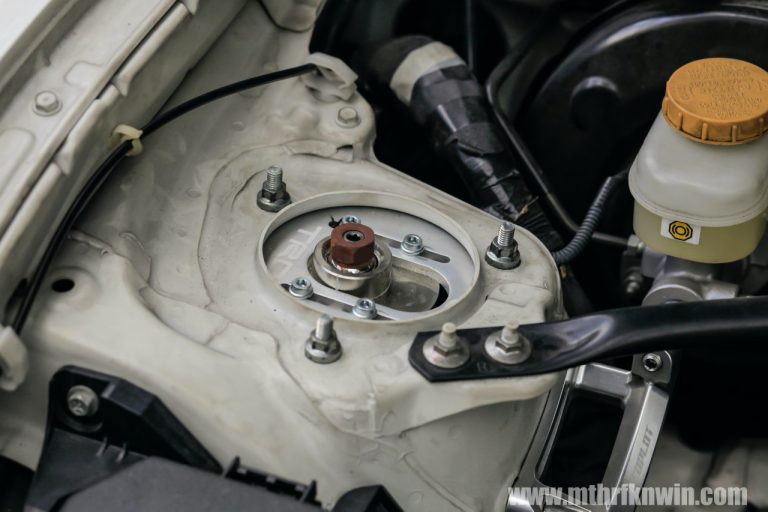 Handling
Taking advantage of the car's new-found grip, I upgraded to a set of Ohlins DFV coil-overs (4 kg front, 3 kg rear) which are mounted on TRD pillow-ball top hats. I also purchased a pair of MCA's traction mod while Whiteline rear sub-frame inserts then stiffened up the arse to further reduce any slack.
In all honesty, the Ohlins were probably the best decision I've made for my car, followed closely by the MCA traction mod. The coil-overs really transformed the BRZ into a serious sports car. If anyone tells you that an 86/BRZ is easy to drive, they clearly have not driven one at its limit. The car is twitchy on the limit and the traction mod greatly reduces that edginess, making it easier to manage overall.
The bane of my existence are the pillow-ball top mounts – I hate them. I discovered bumps on my usual roads which I never knew were there, giving me small heart-attacks every time the rear kicked up in the air. No question – I drive slower now, for fear of my life. There is literally no rubber in the mounts, so all (and I do mean ALL) the shock transfers to your body. This effect is worst at the rear, probably due to the sub-frame inserts as well.
Further down the road, my next step is likely to revert to stock top mounts at the rear and experiment with pillow-ball arms instead. The front top hats though, are likely to stay due to the camber adjustability that comes with the new top hats.
Side note: stock camber adjustment cannot cope with lowered cars, so budget for camber bolts and adjustable rear Lower-Control Arm's when swapping to coil-overs. You'll also want to set aside some cash for adjustable sway bar drop links.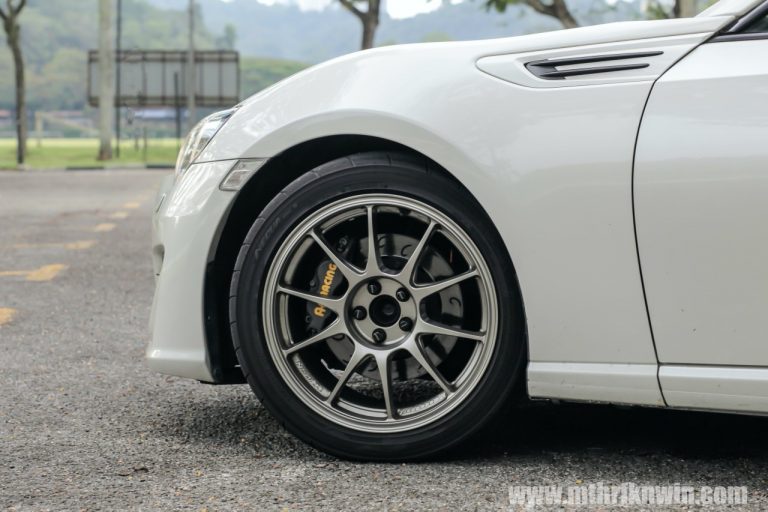 What goes fast, must eventually come to a stop
For shedding off speed, I went with Essex's Competition Sprint brake kit (front only), which is built around the AP Racing CP8350 4-piston caliper. For pads, I went with Ferodo DS2500 pads all round. Prior to this set of BBK, I went with upgrading brake lines, pads and rotors – only to end up replacing pads and rotors after every track day. Braking performance was also poor, with everything over-heating after just 2 laps of hard driving.
Based on my experience, if you want your neighbours, friends and colleagues to hate you, then you should buy this brake kit. They squeal like a piggy and I have tried everything to reduce this; from tapping the brakes in an attempt to reduce the temperature build-up, to full on ABS induced stops to get them up to temp – and they still squeal. Trying to sneak into a girlfriend's house late at night with these is near impossible – you're better off parking further away and walking there. A weird plus is that other road users are likely to think your brakes don't work and jump out of the way.
On track though, no more braking issues. They just take lap after lap of abuse, consistently serving up consistent braking performance. Oh, this is also the only time they are quiet.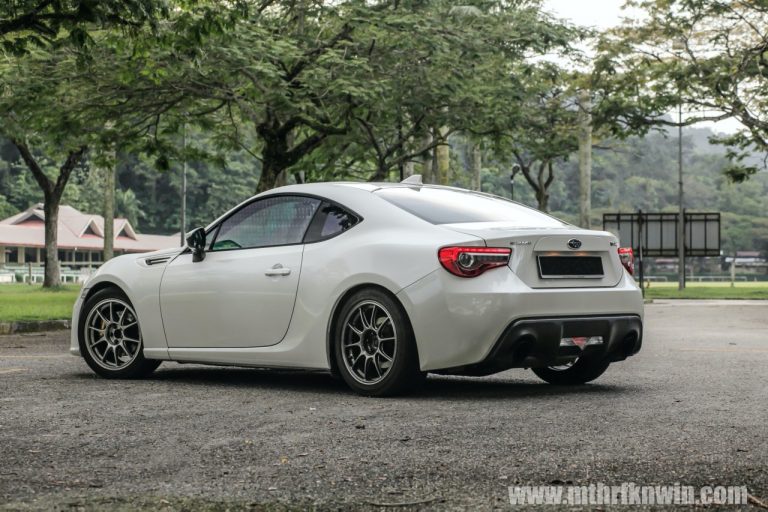 The 86/BRZ platform does not have enough power
Well, I don't think so – my priority was handling, and my car has seen no power mods. I did however install a Milltek secondary cat-back exhaust; purely for sound gains. Hey man, the car's stock exhaust note is pathetic. Also, your typical drop-in air filter mod was installed.
If the brakes didn't give you away trying to sneak in, then the exhaust will certainly get the job done on your way out. It sounds great and will make you smile and giggle every time you start the car, or when doing a full throttle pull. It can also be fun, setting off car alarms in enclosed parking lots.
Milltek claims a few hp gains but I'm not buying it. Perhaps slightly better response, but my arse dyno says otherwise.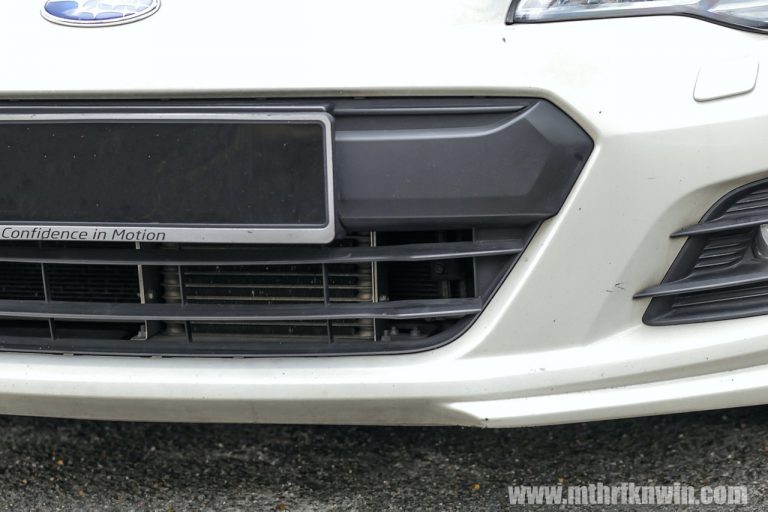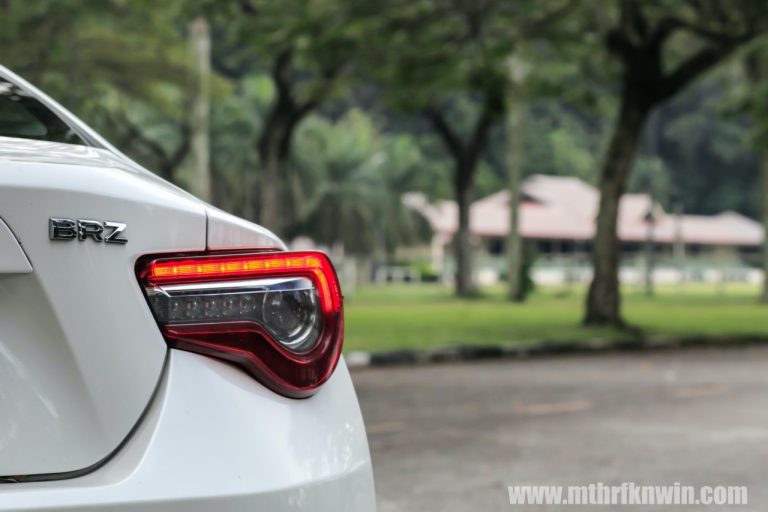 Any other dan lain-lain?
Also new to my car was an STI short-shifter with solid STI transmission mount. This sweetened up gearshifts, making rowing through gears a joyful affair. During my research, many people were saying the STI unit does not make sense on paper, and it may appear that way with barely any noticeable shortening of throw. But trust me when I say STI know what they are doing. I have never missed a gear at Sepang since installation.
If you care about the engine in your car, then a personal must have for me is an oil cooler. My unit came with an oil temp gauge and I found the car to run very hot, even when on the road. Perhaps using a higher viscosity oil might help, but I wasn't taking any chances.
So, have I achieved my goal of a faster car? Not necessarily, and not on the road at least. Out on track, the story would be a little bit different (Ed: Armand manages 2:43 on Sepang Circuit in his BRZ). What I have inadvertently done is made the car more track focused, but at the expense of comfort and daily driveability. Do I regret it? Every time I hit a bump on the road. Was it worth it? Still trying to figure that one out. For those few laps when the car is out on track, it feels connected and brilliant. But then my car only heads for Sepang maybe 3 or 4 times in a year.
Hopefully, this article can help you on your own journey with your project car(s). But if you are anything like me, then you'll know that no matter what others tell you, you will likely go ahead with your plans. Oh, and suffer the consequences too. Is my journey with the BRZ over? Of course not; all it takes is a few free minutes on the world wide web to build a new list of upgrades.