We've had our fill of driving the W205 C-class; with a daily driven C 200 at home and having spent some 3,000 km on a roadtrip to Hua Hin and back in a C 43 AMG. And while I found the C 200 to be a little unenthusiastic, I had secretly fallen in love with the C 43. Now, you may argue that I preferred one over the other simply because of power, but you'd be wrong — take the humble VW Golf as an example; I have driven, and liked, every variant.
This time around, we get to drive the C 300 AMG Line, which slots in neatly between the two cars. so it was interesting to find out how this would score on our YAY/NAY meter.
First things first, let's talk about how the car looks. The W205 facelift brings about some significant aesthetic changes: you now get the 84-diode MULTIBEAM in each headlamp cluster and a redesigned tail lamp on the rear, some nip and tuck styling on the front and rear bumpers, a set of 19-inch five twin-spoke AMG wheels (225/40 front, 255/35 rear), and that fantastic diamond pin grille which truly distinguishes it from the lower spec C 200.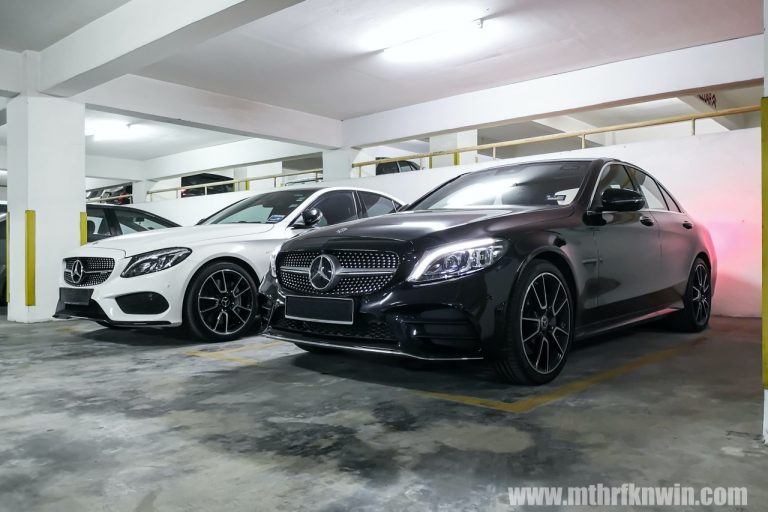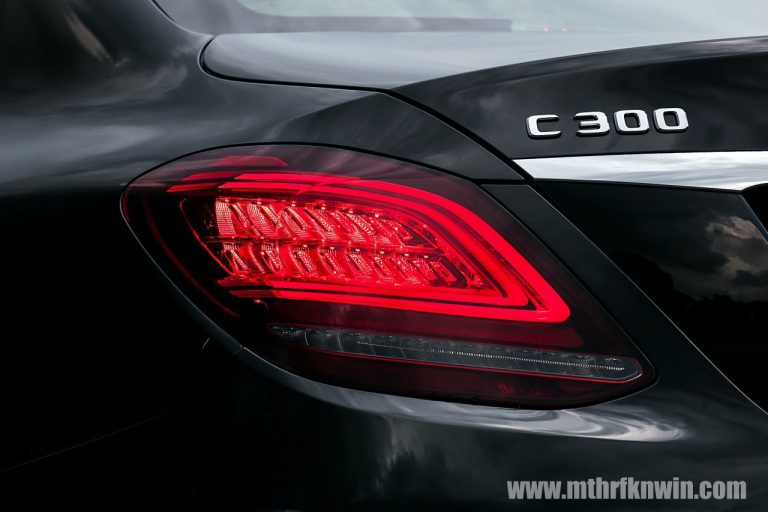 And its no wonder — because that diamond grille (okay, sans AMG badge of honour) and those wheels are pretty much straight off the pre-facelift C 43 AMG. Parked side-by-side, you'd be hard pressed to tell the difference. They're there, but you'd really have to squint to find them. Do we like the aesthetic updates? Heck yes, we do. 
Slip inside and you'll notice some changes too. There's now a larger 10.25″ center display as well as a 12.3″ digital instrument cluster, the latter with three different modes (Classic, Sport, Progressive). It feels expensive when you're seated inside, and while I had never imagined you could mix leather, wood grain and faux-metal bits, Merc has done a great job of making these materials work cohesively. Oh, we also particularly enjoyed the contrasting red interior (also available in brown/black and safer black/black options) from our test car's darker exterior.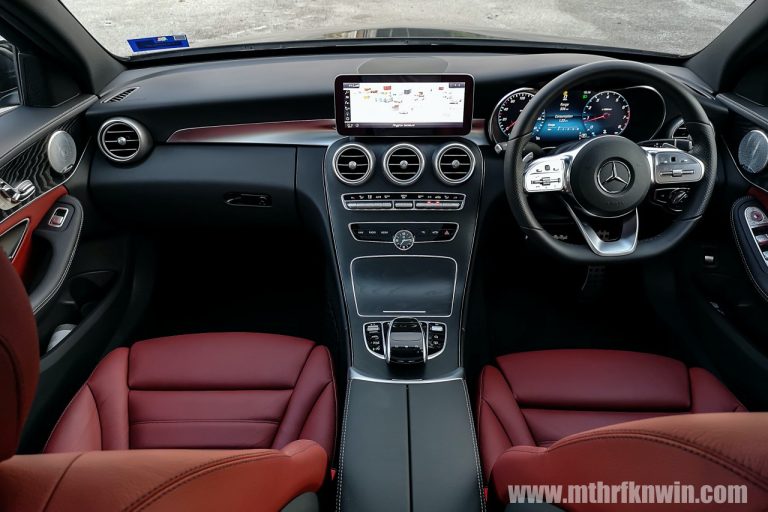 The car's infotainment system is still powered by the outgoing COMAND system, and while the MBUX system would have been a nice touch, we're happy to attest to how much the COMAND system has improved over the years. Because this is the C 300 AMG Line, there's a new flat-bottomed steering wheel which features an updated button layout on the right — it may be confusing to look at, but is actually pretty seamless to figure out.
We also enjoyed Merc's ambient lighting system, which is undoubtedly the best in industry, and did not hesitate to draw some eyes with the gangsta purple hue. It doesn't feel as fancy as the ambient lighting system in the W177 A-class, but then we're comparing Merc's outgoing model against their newest kid on the block.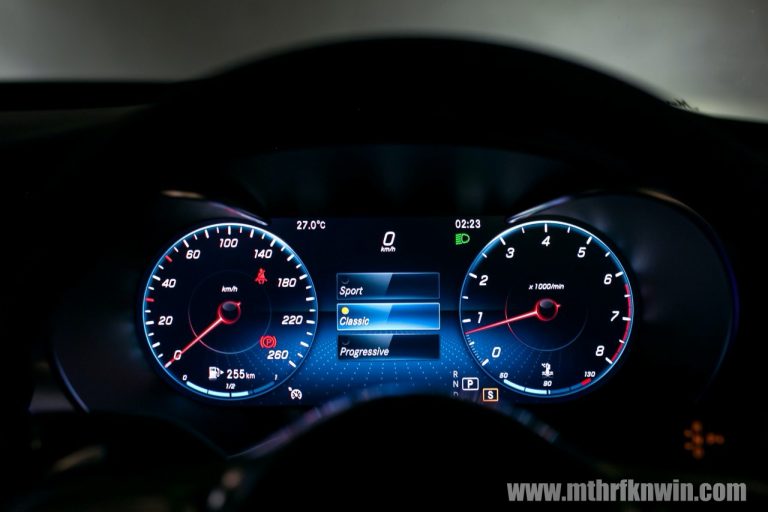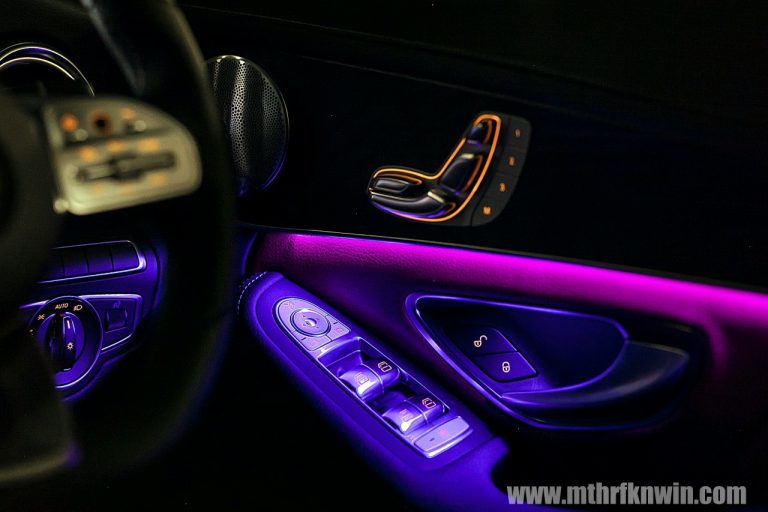 My biggest gripe with the car's interior still remains — the center console is simply set too high and my left elbow kept getting constricted, especially with, ahem, spirited left turns. We know a facelift cannot remedy this and hope that the next generation C-class will have this resolved. Given the airiness in the cabin of the current generation A-class, we do feel positive!
Powering the C 300 is the M264 two-litre twin-scroll turbo engine which churns out 258 PS and 370 Nm. You get an additional 13 PS compared to the previous M274 mill, while peak torque remains unchanged. The engine is now mated to a 9G-Tronic transmission, replacing the 7G-Tronic, sending all the power to the rear.
In terms of delivery, the car is smooth and responsive; just plant your foot into the throttle and the C 300 will complete the century sprint in a respectable 5.9 seconds and on towards a vmax of 250 km/h. Enthusiastic driving will illicit amplified engine sounds and while it may not feel it, this car is quick to break highway speed limits.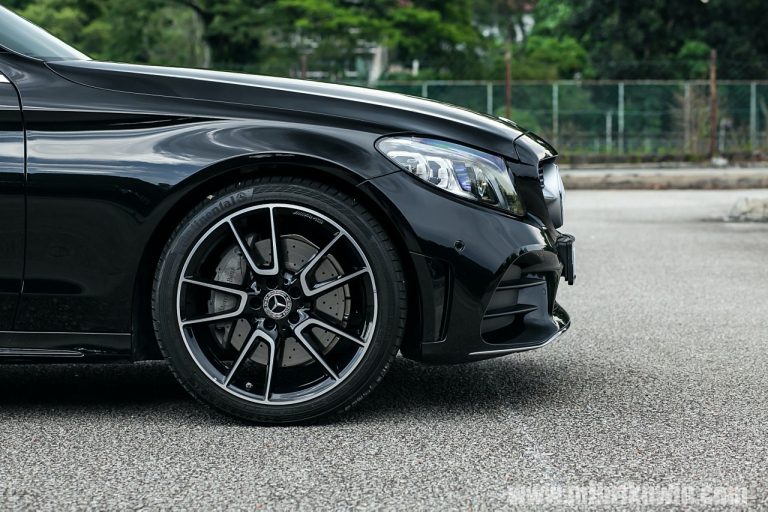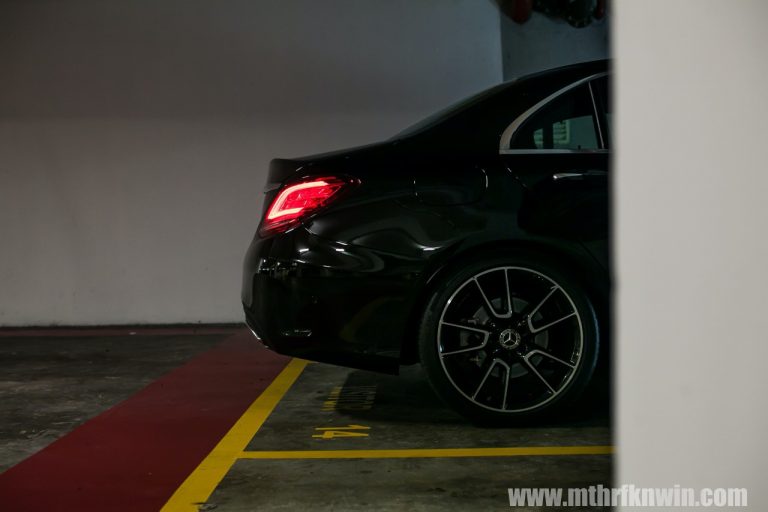 But what matters to us most is simply how the car drives. The C 300 is the only car in the non-AMG range to get Merc's Airmatic air suspension system. This worked pretty well to cushion most road imperfections, at almost all speeds. Naturally, we took the car for a spin on our favourite route towards Gohtong Jaya and, while bodyroll was more pronounced on the curviest parts of the route, was predictable and easy to control. In fact, we prefer the way the facelifted C 300 rides over the stiffer and harsher pre-facelift C 200.
While the car was good through most surface imperfections and decent on the twisty parts of our hillclimb adventure, it was oddly crashy through potholes and speed bumps. I cycled thorough every suspension option in an effort to find the best fit which could mitigate the jarring sensations (because hey, there are lots of potholes and speed bumps in Malaysia) but disappointingly failed.
Call me archaic, but my expectation from any Mercedes is that they ultimately have to be comfortable when driven and if the package includes power and handling, well, that is just a huge bonus.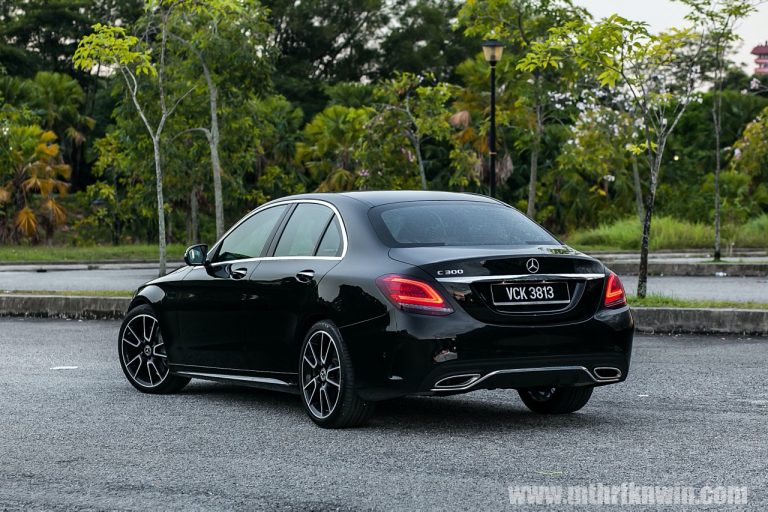 So where does this leave us, then? Well, there's no denying that the C300 AMG Line is a premium vehicle. You get that sensation from the moment you walk towards the car, get into the doors and even when you drive away. The car looks sporty inside and out and with its RM304,888 price tag, Mercedes-Benz Malaysia have thrown in lots of additional kit (blind spot monitoring, lane keep assist, panoramic sunroof, powered boot, Burmester sound system).
If you ask me, the C 300 AMG Line is an almost complete package but the chink in it's armour was the car's ride and, for me, led to an unsatisfactory driving experience. And like we've mentioned before, the ride is important to us. There's no denying that the C 300 is the best non-AMG C-class for sale today in Malaysia, with broad appeal to many. Unfortunately, it just isn't for us.