When Alfa Romeo first debuted the sexy 4C to the world back in 2013, I looked on and drooled in envy. Alfa have no official presence here in Malaysia, so there was slim to no chance of me ever getting to drive one. Over the years that passed, the 4C has always remained desirable; with its sleek and stealthy lines and while many may not have liked the concept arachnid headlamps, I loved it.
On paper, the 4C presented itself well: mid-engine, rear-wheel drive sports car with a four-cylinder turbocharged 1.7-litre mill, lifted off the Giulietta, producing 237 hp and 350 Nm, but in a lightweight body and a carbonfibre chassis that tipped the scales at just 895 kg! It will complete the 0-100 km/h sprint in just 4.5 seconds and, if you can muster the courage to continue burying your foot in throttle, will inch towards 260 km/h.
By stroke of sheer luck, we were recently presented with the opportunity for a brief drive in an immaculate Launch Edition example (1 of just 500 units). Naturally, we couldn't say no.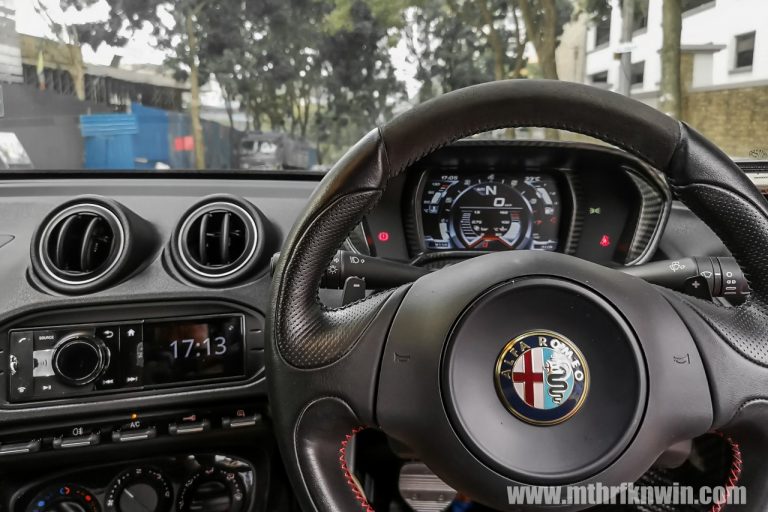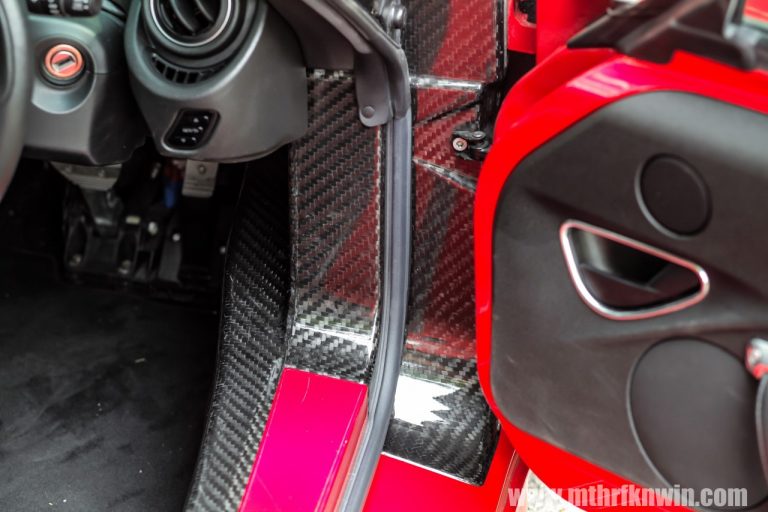 Is it beautiful inside?
As you swing open the doors, you marvel at the carbonfibre weave as your drop yourself into the driver's seat. You get comfortable and there's this awareness of just how close your bum is to the tarmac. Slot the key in, start the engine and as I begin to familiarize myself with the interior of the car, some flaws are quick to present themselves. It starts with the unusually sized steering wheel which feels more than just a handful. Then, there are the brake pedals which seem to be angled away from the driver. And while all that exposed carbonfibre lend a premium feel, the plastics are cheap to touch.
Oh, the car's head-unit is supplied by Alpine and I couldn't quite figure out how to get it to work properly. But this is a sports car and things like in-car entertainment are menial. And shouldn't matter. Right?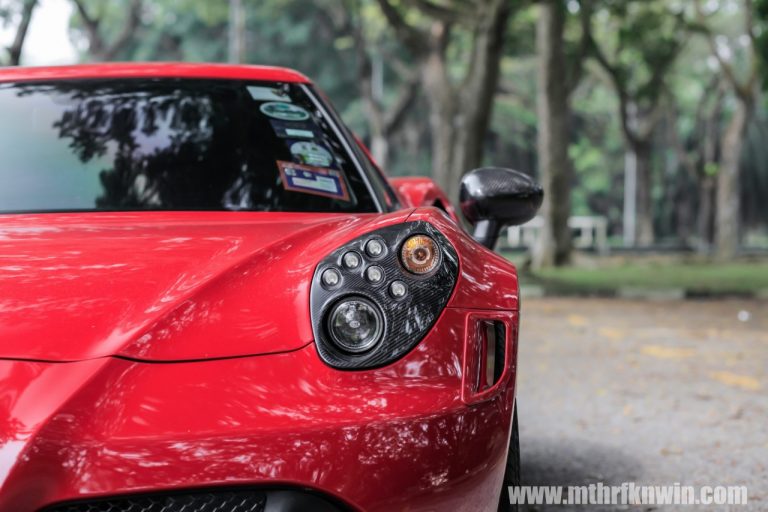 But what's it like to drive?
I don't have much time with the 4C so as soon as I come upon some clear tarmac, I go full send. On full throttle, there is noticeable turbo-lag before the power kicks in. You're served a side of whooshes, pops and crackles and the sensation borders on scary — no doubt from the car's lack of weight. It sounds better on the outside than it does inside. And while it doesn't take very much to get past legal speed limits, the car's factory Brembos do a fantastic job supplying stopping force.
Somehow, I can't help but feel that a lusty V6 would be more appropriate here; aren't all Alfas meant to sound as good as they look?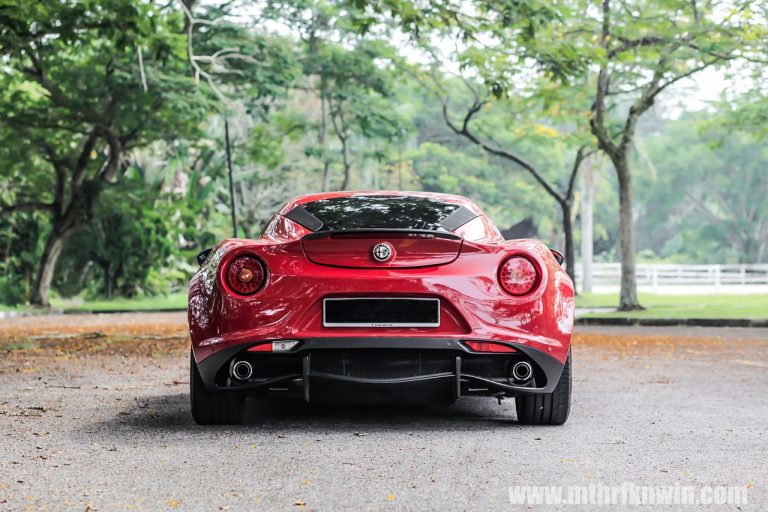 Okay, but did you take the 4C up Ulu Yam?
Of course we did. There's no power steering so parking can be tedious, but once you're on the move, the rack is fast enough although not very communicative. Regardless, you can feel through your fingertips just how light, and stiff, the car is. The suspension is unrelenting and I cannot imagine having to drive this car long distance; I know the first to go would be my lower back.
If you're in the driver's seat, then there is a constant need for attention when driving — the car darts around through every corner and on cambered roads, the 4C can slip and go wide at the front. Watch this in our video below, at the 15:57 marker. It may not translate to very much on video (hey, its just a twitch), but trust me when I say this gives the driver quite some scare.

So what's your verdict?
The Alfa Romeo 4C is a proper sports car — small, light, grippy and with just the right amount of shove. Its not an everyday car, but hey if you wanted an every day sports car, you'd be better off in a Porsche. With the 4C, you get a raw, undiluted driving experience. Yes, its a flawed car… but isn't that part of the Alfa Romeo experience? Character, I think that's what they call it.
Would I buy one? Not without an unlimited budget, no. Do I want one? Yes. Hell yes. As tested.